The job performance evaluation is a key tool that helps us to measure the performance of employees and their contribution to the company. It is a process that allows us to identify the strengths and weaknesses of the staff, in order to improve their performance and achieve the desired objectives.
We will explain step by step and with some practical examples how to conduct an effective performance appraisal.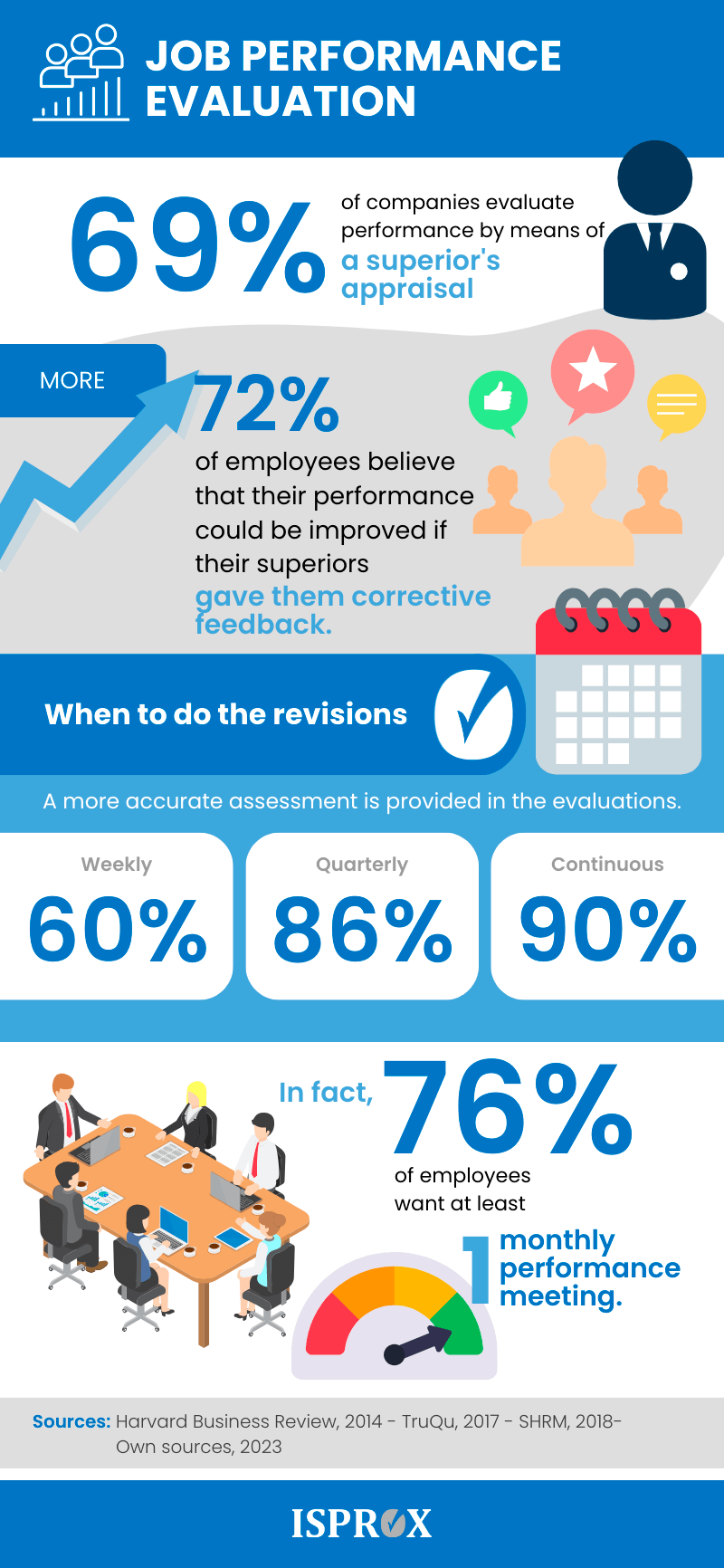 How to conduct a performance appraisal?
As we have been saying, it is important to have some things clear so that this tool is useful and leads us to the objectives we are looking for.
According to Harvard Business Review research, 72% of employees believe that their performance could be improved if their managers provided corrective feedback. A properly conducted performance appraisal can provide you with the data you need to communicate areas of improvement to your employees to improve their engagement and productivity.
Let's go for it!
1. Define the objectives of the performance evaluation
Before starting the evaluation process, it is important to define the objectives to be achieved.
Some of the objectives sought when conducting a performance evaluation are:
Identify strengths and weaknesses: Performance appraisal helps to identify employees' strengths and weaknesses. This allows the company to provide training and professional development to improve employee performance.
Set goals and objectives: performance appraisal helps set specific goals and objectives for employees, giving them clear direction and enabling them to work towards success.
Improve communication: Performance appraisal also helps improve communication between employees and supervisors. Employees can receive constructive feedback and suggestions for improving their performance, giving them a better understanding of what is expected of them on the job.
Identify problems in the organization: The assessment can also help identify problems in the organization that may be affecting employee performance. For example, if several employees are underperforming in a certain area, it may be an indication that process improvement or training is needed in that area.
Motivate employees: Performance appraisal can also be used as a tool to motivate employees. If employees know that they are being evaluated regularly, they may be more motivated to work hard and meet the company's objectives.
Job performance indicators
What indicators will be used to measure job performance?
Establishing these clear points will allow the evaluation process to be more objective and effective.
When conducting a job performance questionnaire, it is important to be clear about which indicators we want to highlight.
Job performance indicators are key tools for measuring employee performance.
Some of the most common indicators are: productivity, quality of work, punctuality, attendance and attitude. Using these indicators will allow the job performance evaluation to be more objective and effective.
In addition, there are different types of job performance evaluation questionnaires, so it is important to select the one that best suits the needs of the company and the employees.
Some of the aspects to be considered are:
The evaluation methodology.
The type of questions we are going to ask.
The way to measure results.
The frequency of evaluation.
2. Annual job performance evaluation
Regarding the last point mentioned, there is no stipulated frequency as ideal. However, it is recommended that the job performance evaluation be carried out at least once a year.
Several studies show that it may be more beneficial for performance appraisal to be ongoing and more frequent. According to SHRM, HR professionals agree that semi-annual (60%), quarterly (86%) or ongoing (90%) reviews provide a more accurate assessment of employees' work. In addition, 76% of employees want at least a monthly performance review (TruQu).
In this way, it is possible to measure the progress and setbacks of the personnel in a given period and establish strategies and objectives for the future.
In addition, an annual evaluation allows us to detect performance problems in time and to take the necessary measures to solve them.
---
Are you looking for talent to expand your team?
At ISPROX we help you find the right profile, saving you time and increasing your hiring success rate.
---
3. Job performance analysis
Once the job performance evaluation data has been collected, it is important to conduct a detailed analysis of the results. This will allow you to identify the strengths and weaknesses of your staff and establish improvement plans.
In addition, it will allow us to detect structural problems in the company and take the necessary measures to solve them.
4. Communicate the results
Finally, it is important to communicate the results of the performance evaluation to employees in a clear and transparent manner. This will allow them to know how they are performing and where they need to improve.
In addition, effective communication of results will make employees feel valued and motivated to improve their performance.
Examples of Job Performance Evaluation
In this section we are going to show a couple of very simple examples of job performance evaluation so that you can fully understand what it consists of:
Example 1: an employee who is hired as a salesperson for customer acquisition and customer loyalty:

Productivity and quality of work: it has far exceeded the objectives proposed by the commercial department. 10/10
Efficiency: it has done so by investing few resources. 10/10
Acquired training: has not attended any training 0/10.
Objectives: 10/10
What conclusions can we draw from this evaluation?
Well, this worker, although he or she could improve in the training area, generates a high performance for the company's interests.
Example 2: an employee we hire for the Marketing and Advertising Department of the company.

Productivity and quality of work: despite his training, he shows deficiencies in the company's marketing process. 6/10
Acquired training: the company sends you to a specific 30-hour training. Your productivity improves, but not as much as expected. 5/10
Efficiency: uses company resources such as training and the results are not optimal. 6/10
Objectives: 5/10.
Conclusions?
The best person for the job may not have been selected. We can try to correct this by spending more training hours. The next performance evaluation will let us know if the measures taken now are having an effect.
These are just a couple of illustrative examples to explain in a very simple way how a performance evaluation process works.
In reality, they tend to be somewhat more complex and approached from different and varied points of view.
In addition, different types of scales (not only from 1 to 10) and questionnaires can be used to measure the results of the evaluation.
Digital tools or apps to evaluate work performance
Nowadays there are many digital tools and apps that can facilitate and improve the process of job performance evaluation in companies.
These tools offer advantages such as task automation, real-time data collection and detailed reporting and analysis.
Here is a summary of the digital tools most used by companies:
15Five: allows employees to receive feedback and recognition of their achievements, as well as managers to evaluate the performance of their teams. It offers weekly and monthly questions to evaluate performance and generate detailed reports.
Workday: this business management platform includes a job performance evaluation tool. It allows you to set goals and evaluate employee progress in real time, as well as generate detailed reports.
Trello: project management tool that can also be used for job performance evaluation. It allows setting goals and tasks for employees, as well as evaluating their progress and performance in real time.
Trakstar: is a tool specialized in job performance evaluation. It allows you to customize evaluation questionnaires, set objectives and track employee progress. It also provides detailed analysis and reports on employee performance.
These are just some of the digital tools and apps available in the market for job performance evaluation.
In any case, it is essential to evaluate the specific needs of each company and select the tool that best suits them.
In addition, these tools should be used as a complement to a well-defined and structured evaluation process that includes clear objectives, performance indicators and effective communication of results.
Conclusions on job performance evaluation
Job performance evaluation is a key tool for improving employee performance and achieving company objectives.
By following these tips, you will be able to conduct an effective job performance evaluation and improve the performance of your work team.
We hope this article has been useful for you to know the most important aspects of job performance evaluation. If you need help to restructure your workforce as a measure to improve the performance of your team, do not hesitate to contact ISPROX. We will be happy to help you find the right talent.